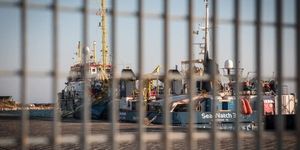 Having returned to action in the Mediterranean after several months confined to port, the rescue ship Sea-Watch 3 has once again been detained in what Sea-Watch describes as "politically motivated harassment".
Read more
The answer would appear to be "no". A look at his work and biography reveals a nuanced yet pragmatic approach.
Despite Covid-19, the Peace Light is on its way again this year. The ceremony sending the Light into the world was livestreamed from Salzburg Cathedral. NNA would also like to wish all our readers a peaceful festive period.
Rudolf Steiner's sole travel diary has been published in the Archivmagazin of the Rudolf Steiner Archive. It gives an insight into the private life of the Austrian philosopher.
New Zealand is generally seen as one of the success stories in tackling the coronavirus pandemic. Here NNA correspondent Vee Noble looks back at a year with the virus from a New Zealand perspective.